Computerised Videographic Wheel Balancing Station
In addition to Wheel Balancing it also measures the tyre's radial deformity (run-out) and defects. Special sensors are used to measure the tyre's first harmonic eccentricity and peak values. It is also possible to measure the wheel rim eccentricity, so as to evaluate whether it is worthwhile turning the tyre on the rim. Clear graphic indications and the practical test method make it easy and fast to check the quality of all wheels!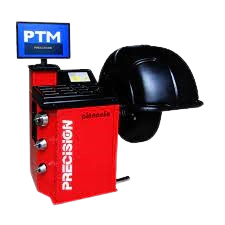 Digital Wheel Balancing Machine
Latest operating system software.
Balancer has DYN/STA and different ALU balancing programs along with motorcycle balancing program.
Balancer allows user to customize settings, for example On/Off protective cover, display accurate imbalance etc.
Customer can feed input distance /diameter/ width by clockwise/ anti­ clockwise wheel rotation
Calibration is easy to proceed, and the balancer quicly gets back to its precision
The IMD display panel is resistant to scratch and erosion, having long service life.
The press buttons are very sturdy and will not broke even in 500,000 times
Professional 2 Camera 3D Wheel Aligner For HCV
SHARP 3D wheel aligners for HCV's are designed to take measurements and perform alignments on HCV's in automotive companies, car service stations, automotive manufacturing plants, and diagnostic centers.
The operation of the wheel aligners is based on measurements of wheel axis angle parameters by video cameras and high-precision image targets.
Wireless remote control
Self-centering clamps fit disks up to 24″ rims.
High-precision image targets.
Special probe target allows quick and accurate measurements of truck frame position in order to determine vehicle centre line.
Machine vision system housings are vertical pillars equipped with precision network camera units based on high-quality matrices. Data transfer from the camera units to the PC is carried out over TCP/IP.
Such a location of the machine vision system allows you to take into account individual peculiarities of a certain workplace and allows a passage.
The machine vision system allows automatic recognition of targets installed on vehicle wheels and the position of the probe target and high-precision recognition of their geometrical position in space.
The 3D program interface allows you to see position and wheel alignment angles on the screen in real-time mode.