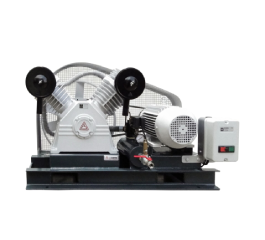 Dry compression chamber is always not enough! FS CURTIS total oil free compressor uses dry crankcase design, absolutely no risk of oil residue carried to compression chamber.
High efficiency cooling fan transmits great amount of heat, better performance results from multi stages of compression, compact streamlined air passages on the cylinder and head enhance cooling effect, 2- stage compression for 7.5HP and above models reduces power consumption and less heat accordingly, the copper tube between stages is fitted with cooling fans to reduce operating temperature effectively
Industrial design of compressor ring reduces leakage and results in lower speed and longer life.
Oil free compressed air for high quality demand
High precision grease bearings. High temperature-resistant grease ensures long service life and constant operation.
High precision machining along with self material that resists wear and high temperatures. Stainless steel's, elastic structure enhances the sealing effect and durability.
A corrosion-free leaf leaf valve made of stainless steel coated with high temperature–resistant material effectively reduces noise and improves service life. 100% duty cycle is assured.
Made of die-cast aluminum alloy is highly rust-resistant with great strength. CNC precision machining process ensures stable compressor operation.
Casting with compact ingredient, precise machining followed by grinding. Surface coating with self material.
Ventilation of the crankcase fitted with ventilation systems on both sides enormously reduces the operating temperature to increase bearing service life.