The FAS product range includes air cooled, single stage silenced and packaged screw compressors in the power range of 15 – 250kW. These compressors are designed for industrial application and 24×7 continuous duty. All models are driven by highly efficient IE3 efficiency class electric motors.
With the intelligent compressor control, you have full control over the operating status: maintenance indication and fault indication. The control also features fully automatic full load, idle and intermittent control as well as remote on/off and direction control
ENERGY SAVINGS ARE SMART SAVINGS
Take control of your energy savings with our optional Energy Management System, which includes the controller, variable-speed drive, and air end to create greater overall efficiency. This innovative design maximizes energy savings and reduces overall operating costs.
INTELLIGENT VARIABLE SPEED DRIVE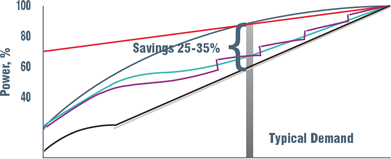 One of the ways in FAS Series compressors maximizes energy savings is with a variable speed drive (VSD). The VSD allows you to match your energy usage to current system demands, eliminating the need to overpressure the system, so you'll save money by not wasting energy.
In addition, the softstarting capability of firstAir' VSD reduces inrush current requirements, decreasing your power demand — and, of course, increasing your energy savings
The VSD — time-proven directly coupled design — offers faster response and greater operational efficiency
Variable operation slows air end speed, which lowers energy costs and reduces noise
Matching the operating speed with changes in demand reduces component wear
The VSD enhances quality by stabilizing air pressure at + 0.1 kg/cm²
Built-in DC choke protects against harmonic disturbances and eliminates the need to source additional corrective devices
The data & performance were recorded in accordance with latest ISO 1217 standard. The sound level was measured in accordance with PNEUROP/CAGI standard. Water cooled options available, details on request. VFD with Star-Delta bypass option available, details on request. Tank mounted & Ultrapack models are also available for 15-22 Kw with 500L tank, details on request. Due to continous engineering improvements, above features are subject to change without prior notice.
Catalogue - FIRSTAIR 5-15HP