Dire Drive Symmetric Electro-hydraulic Clear Floor 2 Post Lift
Designed based on the international standard; Pillars in a single steel piece for increased strength and rigidity, concealed hoses for safeguard against damages, heavier Base plate for better stability, arms Laser cut and bent in high quality steel plates and all combine to offer a real 4 Ton lifting capacities.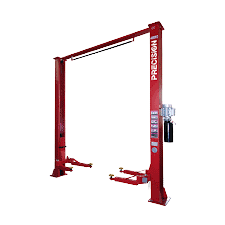 MAESTRO DD is a double cylinder design "Direct Drive" type clear floor 2-post lift.
HOW DO Two Post Hydraulic Lift WORK?
Dual hydraulic "Direct Drive" cylinders ensures, stable lifting and lowering with many advantages. Fewer moving parts as compared to other Hydraulic Lifts as there are no chains, pulleys, etc. thus increase the working life of the Lift.
Single Side lock release system sav time and e Drop-end arms with screw adjustm nts of the Ii provide a lower pad height
Heavy duty carriage for superiors rength and du bility
The cable and oil pipe are fully con aled,with dece and elegant appearance Electro mechanical locking devic in case of rope f ilure
Automatic arm locking device Top quality Premium Power Pac