Professional 2 Camera 3D Wheel Aligner
SPECIALE Wheel Alignment System is designed to make measurements and perform  alignment on S rabble and unsteerable wheel in automotive deal          workshops, car service stations, tyre shoppers and gnostic centers
The operation of the Wheel Aligner is based on measurements of wheel axis angle parame ers by digital video cameras and high-precision get targets
Only Target which Works Under Sunlight
Extremely Quick Clamping
Self Centering 3 Point Tyre Clamps
Quick Locking Unit W -3290
PWL-392M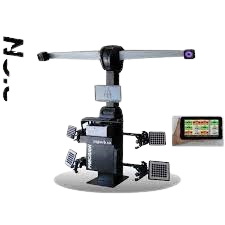 Worlds First Ever Intelligent Ta get Why adjusts Its If utoma cally to Work in ny Lighting Condi ions, including Sunliglit.
WHEEL DAPTERS
Ultra Light WeightThre point Tyre Clamps will a stable Arms 47-1100mm.
Extremely Quick Clamping with no Scratch to R m
SUPERB 360 A moveable Wheel Alignment system designed to keep measurements and perform alignment on vehicles raised on lift with wheels ins s ended position
The move ability helps to position of machine in any bay where the vehicle is, thus saving time to move every vehicle to bring in the dedicated alignment bay.
This dual capability a so m keys it an ideal machine for tyre shoppees with space constraints and a moveable systems the only way.
Capability o perform alignment with wheels raised and in suspended position so make it an ideal to partner the am    bled wheel lift, thereby making it an anywhere machine.